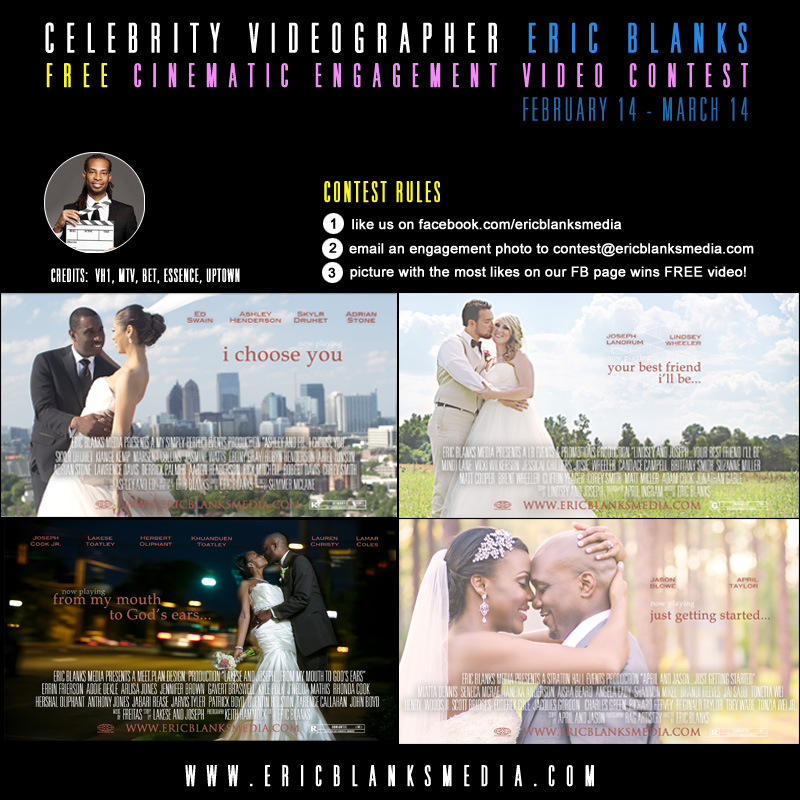 Are you engaged or know an engaged couple? If so, don't miss out on this once in a life time opportunity to have a cinematic engagement video, like never seen, filmed at no cost for you.
Contest rules:
1. Like our Facebook page http://facebook.com/ericblanksmedia
2. Email us an engaged pic to contest@ericblanksmedia.com
3. We will upload your photo to our FB page. The pic with the most likes at the end of 3/14/15 will win a free engagement video shoot.
Restrictions:
-Video will be filmed in metro Atlanta.
-In the event the winner can not participate, the 2nd most likes will be declared winner.
-Winners must sign a model release form.
-Unfortunately if you share the pic on your timeline, the likes do not show up in the album. It is best to paste the album link on your timeline and explain to your friends to like the pic in the album: https://www.facebook.com/media/set/?set=a.706964276084193.1073741829.124483487665611&type=3
View our latest cinematic wedding film